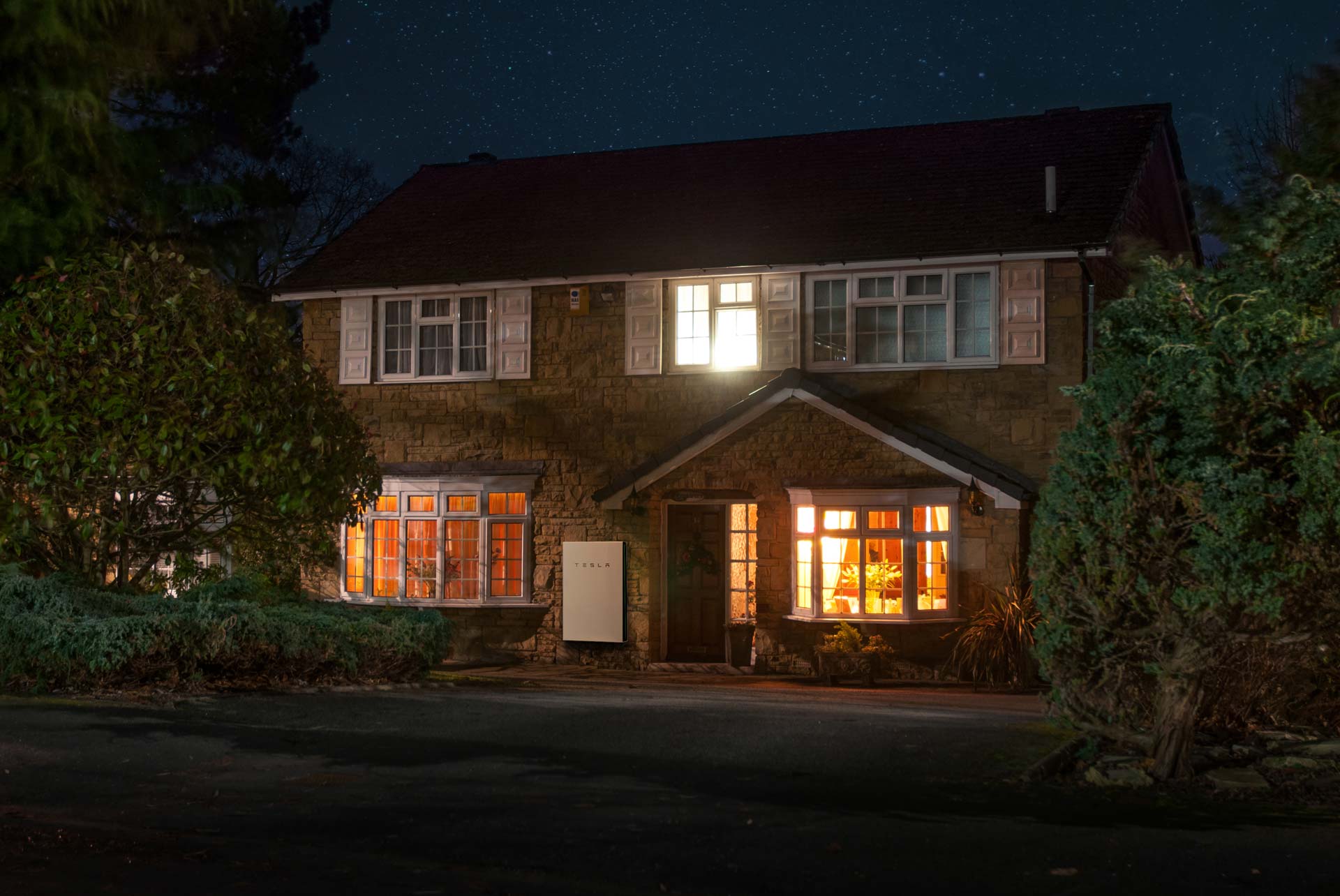 Learn More
Powerwall
|
Tesla's Home Battery
We're super excited to be among the first Certified UK Installers of the Tesla Powerwall Home Battery.
Contact Our Team Today for a quick quote to install the Tesla Powerwall Home Battery in Your Renewable Home.
Whether Installed Inside or Outdoors, Powerwall's Benefits:
Child & Pet Safe Design

Easy Floor or Wall Mounting


Water-Resistant



Quiet Operation

All-in-one Internal Inverter


Realtime Energy Monitoring
Compact and Simple
The Tesla Powerwall is a completely automated home battery system that installs easily and requires no maintenance.
Touch-safe
Child and pet friendly with no exposed wires or hot vents.
Floor or Wall Mounted
Installs easily on the wall, or stack up to ten Powerwalls together on the floor.
Weatherproof
Water-resistant and dustproof for indoor or outdoor installation.
Quiet
Operates with almost no noise and is significantly quieter than generators.
All-in-one
Uses an internal inverter to convert DC energy to AC energy, lowering cost and complexity.
Always Connected
Monitors energy in real-time and sends alerts about severe weather response.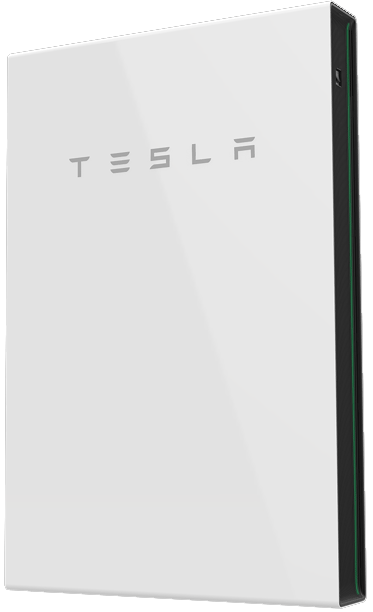 Seamless backup power. With or without solar.
Powerwall detects grid outages and automatically becomes your home's main energy source. Protect your home from the next power outage and keep your lights on, phones charged, and no puddles under the fridge!
Self-Powered home? Just add Powerwall.
Powerwall integrates with your solar system to store excess energy generated during the day, making it available when you need it! This massively reduces reliance on your energy provider.
Full Control,
Anywhere..
Manage your home battery system from anywhere in the world! with 24/7 mobile monitoring.
UK Powerwall Case Study:

Robert's Experience..
Discover the benefits experienced by Robert in harnessing the power of the sun, day and night.
Up to 5 years
0% Finance Available
Spread the cost of your New Boiler with flexible monthly payments!

Terms & Conditions apply.

Frequent Powerwall Questions
Can I add a Powerwall to my existing solar system?
Yes, Powerwall can be integrated with your existing solar system.
Powerwall is compatible with solar inverters from SMA, SolarEdge, Fronius, Enphase micro inverter, Delta and ABB. We continue to explore compatibility with other inverter companies.
To be sure.. Request A Call Back!
Please include all information you know about your existing solar system.
Does Powerwall work with existing battery systems?
Powerwall does not currently have the ability to work with existing battery systems.
I have a wind/hydro turbine, Can I charge Powerwall with it?
Powerwall does not currently integrate with other renewable generation equipment.
What does a Powerwall system look like with all the additional equipment installed?
A Powerwall installation includes at least one Powerwall battery, a Gateway and standard electrical hardware such as distribution boards, wire raceways, junction boxes or electrical disconnects as required by your particular installation and local electrical codes.
In some cases, electrical hardware can be hidden within the wall for an additional cost.
What are the terms of the Powerwall warranty?
Powerwall comes with a 10-year unlimited cycle warranty with guaranteed energy retention level when used in Self-Powered or Backup mode.
Ready to Talk Powerwall?
Our award winning support team is here to help you!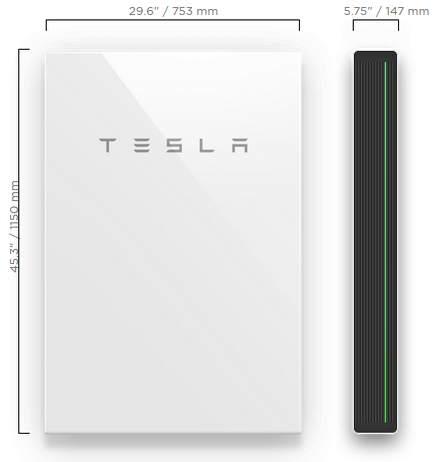 Usable Capacity


13.5 kWh

Scalable


Up to 10 Powerwalls

Depth of Discharge


100%

Operating Temperature


-20°C to 50°C

Efficiency


90% round-trip

Dimensions


L x W x D: 45.3″ x 29.6″ x 5.75″




(1150 mm x 753 mm x 147 mm)

Real power


max continuous 3.68kW/5kW

Weight


114 kg

Supported Applications


Solar self-consumption




Back-up power




Time-Based control




Off-grid capabilities (coming soon)

Installation


Floor or wall mounted

Indoor or outdoor

Warranty


10 years

Certification


Grid Standards UK G83 / G59 / G100
Common Tesla Powerwall Questions
This is dependant on how your system is set up. If your Powerwall is recharging only from the Grid, we recommend organising a dual tariff or the Tesla Energy plan for the lowest possible price per KWh off-peak recharging.
Electrical Stability
With Powerwall installed your property has ultimate Electrical Stability. Meaning, power fluctuations from the grid are almost certainly a thing of the past. Your appliances will last a lot longer thanks to your electricity supply being clean, steady & consistent as long as Tesla Powerwall remains integrated.
No More Powercuts!
Along with power fluctuations.. in the more Rural areas, another real obstacle can be PowerCUTS. With powerwall installed it would have to be a very long outage for your 13,5KWh battery to run dry.
Reduced Grid Energy Cost
With Powerwall and a dual tariff electricity plan.. When utilising the Powerwall App, you can configure the system to

only

recharge itself "out of hours". Thanks to the scheduling feature your Powerwall only recharges itself during your off-peak price plan. This can save a healthy sum over feeding directly from the grid all day.
The Powerwall is an AC battery. It has an integrated AC-DC inverter/charger.
Unless there are unforeseen complications, installing a Powerwall takes one or two days.
In perfect conditions with no loads and 7.6kW of solar power, a Powerwall could charge in 2 hours.
Source: Southern Energy Management, Inc.
The Powerwall now coordinates with Tesla vehicles during a power outage, so to charge your car without exceeding the energy and power capabilities of your Powerwall. Powerwall reacts to the amount of power your home needs and will slow or stop your vehicle's charging if necessary to keep your home powered.
Tesla Powerwall and its 13.5kWh of energy storage IS able to be used in Off-Grid Systems. Potentially allowing you to remove your grid connection completely.
No. Powerwall does not generate electricity in any way. It is a battery storage unit only.
Installing a Powerwall is a fairly straight forward process, and can be done indoors, outdoors, or in the ground if necessary. It performs optimally between -17 to 30 degrees celcius, so most homeowners will probably want the battery itself in the garage or basement.
Yes, Powerwall can be charged from the Grid directly once integrated into your system.
Have Other Questions? Request A Free Callback From Our Team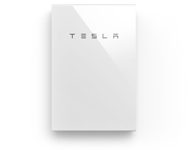 Want To See Our Powerwall Installation At The Glasgow EcoHouse?
We have a Tesla Powerwall installation within our EcoHouse located in Hillington Industrial Estate, near Glasgow.
If you're near Glasgow and would like to organise a short visit..
-> Fill out our callback form or give us a call on 0141 896 07 75
Based in Glasgow & West Central Scotland!

BRB Electrical Ltd takes great pride in servicing homes and businesses across Scotland from our headquarters in Glasgow.
---
Glasgow | Paisley | Dumbarton | Motherwell | Hamilton | Kilmarnock | Coatbridge | Largs
Ayr | Linwood | Bridge Of Weir | Johnston | Wishaw | Bellshill | Bothwell | Parts of Perth & Edinburgh