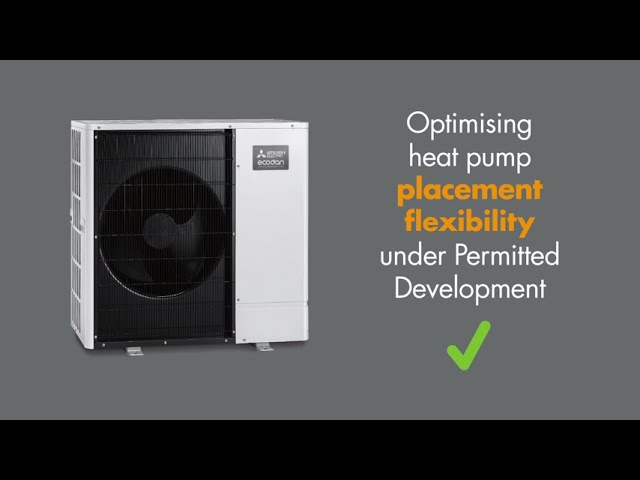 Learn More
Ecodan

| Air Source Heat Pumps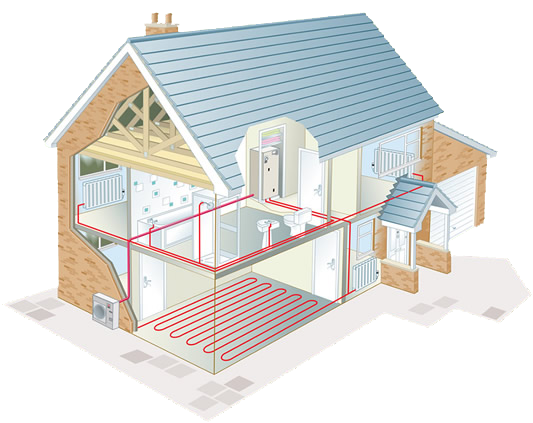 Mitsubishi Ecodan Air Source Heat Pumps are a renewable low-carbon alternative to traditional high-carbon heating systems.
Whether a small flat, large house, office or school..
In Scotland it's a reliable, renewable heating technology that delivers efficient sustainable space heating and hot water all-year-round.
Many Scottish Councils are now embracing air source heat pumps to reduce fuel poverty for social housing tenants around Glasgow, Edinburgh and beyond.
We installed over 700 Mitsubishi Ecodan ASHPs for South Lanarkshire Council as part of their drive towards cleaner, cheaper heating for their tenants.
Contact BRB Here for a quick quote to install ecodan technology in your Renewable Home.
"It's like a fridge in reverse."
An Air Source Heat Pump (ASHP) absorbs heat from the outside air even when the temperature outside is as low as -15c!
Whether you're house is half way up a mountain or down in the City the collected heat is then used to provide heating and hot water for your building. 
A few key benefits of an Ecodan ASHP System..
Particularly if you are replacing conventional electric heating.
Your ASHP will be there to keep your heating ON when you need it.
Available through the Renewable Heat Incentive (RHI) giving you a quick payback.
Only periodic maintenance is required under normal operation.
Quiet, Durable and Built For The UK

An Ecodan System always consists of an outdoor unit and an indoor unit that are connected to one another.
The available energy collected via the outdoor unit is conveyed to the indoor unit, where it is introduced to the heating circuit then distributed within the building to heaters or underfloor heating.
For New Builds And Refurbishments
With efficiency, technology and noise emissions alike, Ecodan sets the benchmark for the heating of the future – for new builds and refurbishments almost anywhere in Scotland.
Control & Monitoring App
Ecodan heat pumps can be controlled in an intuitive and effortless manner using MELCloud.
SG Ready
Since September 2016, Ecodan systems we install have featured control technology that enables the individual heat pumps to be integrated into a 'smart grid' (SG).
Ecodan Guarantee
An Ecodan heat pump is a 100% future-proof solution for Scotland's climate. This is thanks in no small part to Mitsubishis' sophisticated technology and high-quality materials. Their commitment to quality is demonstrated through an optional 5-year Ecodan system warranty.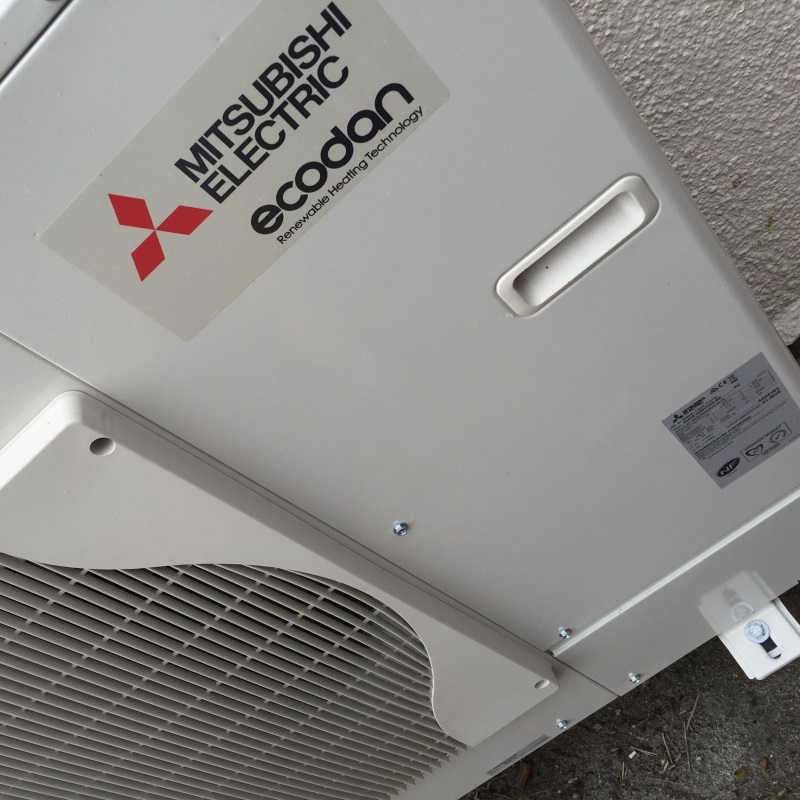 How Does An Air Source Heat Pump Produce Renewable Heat?

An air-to-water heat pump makes it possible to use ambient heat in the house, in a straightforward and relatively inexpensive process.
Air Source Heat Pump vs A Conventional Boiler
A heat pump has a key advantage over a conventional boiler as it can be used for more than just heating and hot water…
ASHP Systems can also provide ideal living comfort in a well insulated Scottish home during the summer. In the warmer months a 'reversible' heat pump can be used to cool down your rooms to a pleasant temperature.
Ecodan,

How It Works..
Here's a quick animated overview of what a standard installation looks like..
We take care of everything for you, start to finish.
In Control.
Enjoy the benefits of heat pump technology with a simple at-home control interface.
Manage your ecodan air source heat pump system from anywhere via the internet.
Enviromental Drivers
As Scotland and the UK as a whole strive to meet its carbon reduction targets, renewable heating systems have been recognised as an important part of the solution. This is why the Government is encouraging the installation of air source heat pumps as a low carbon alternative to gas, oil and LGP energy heating.
Existing Homes
Typically installed in less than 2 days, Ecodan air source heating systems are available in a range of sizes to suit almost any home in Scotland. To understand which system is right for you, factors such as the age of your property and current heating system; the levels of insulation and the way you use your heating will all affect the final choice.
We recommend getting in contact with our team for a full assesment.
Social Housing
Ecodan renewable energy air source heating systems allow Scotland's Housing Associations to comply with regulations/legislations and are simpler to maintain than gas. Also removing the need for gas safety certificates. An air source heat pump system can help reduce a property's carbon footprint, simplify maintenance regimes and help tenants combat fuel poverty by reducing household running costs.
We recommend speaking to our team to understand which systems are right for your housing portfolio.
New Builds
The Ecodan range is ideal for new build homes and self-build / pre-fab home projects in Scotland as it perfectly adheres to Building Regulations and any renewable targets set by the local Scottish authority. With Ecodan air source heat pumps only requiring an electricity and water connection it is ideal for areas outside of the National Gas Energy Grid.
We recommend speaking to one of our experts to understand which heating/energy system is right for your project.
Self Builds
In Scotland with an Ecodan air source heat pump there is no need for groundwork preparations, such as pipework. The Ecodan system can be easily mounted outside of the home, whether installed in Edinburgh City or the rural Highlands, the ASHP can be placed at a convenient location such as an alleyway or garden. It is also compatible with underfloor heating which is popular in self-build eco energy focused properties.
We recommend getting in touch to understand which system is right for your project.
Ready to Talk To An Ecodan Expert?
Our award winning team is here to help you.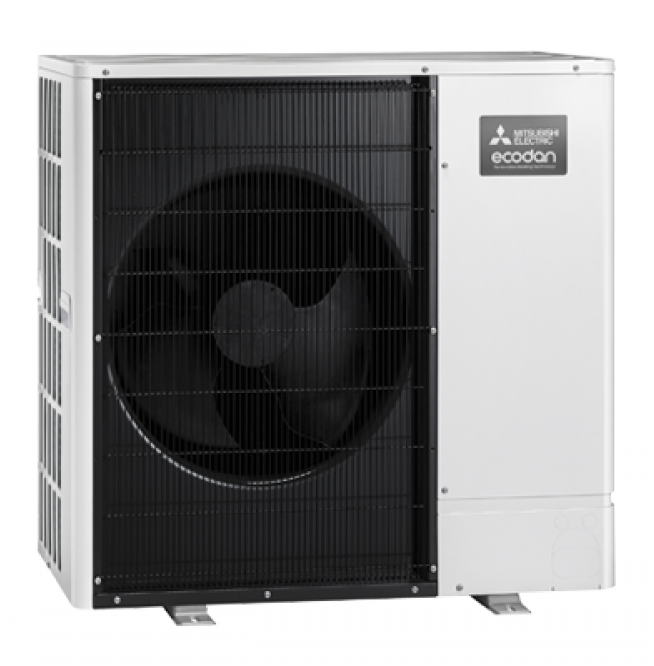 Ecodan air source heat pumps are self-contained units and only require water and electric connections.
They are low maintenance, quiet to run and can be discreetly placed outside homes in Scotland.
They're also suitable for small retail outlets and commercial buildings.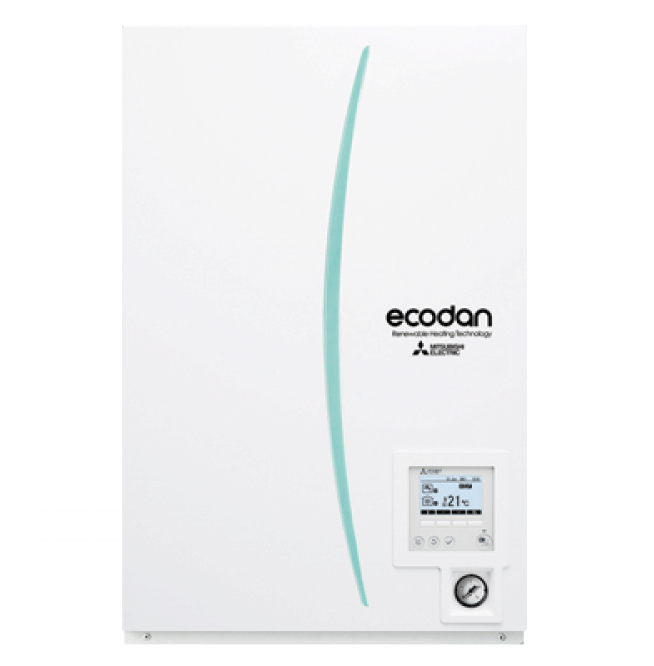 Ecodan FTC5 cylinders and hydroboxes offer a highly adaptable heating solution for a variety of homes.
They are designed to integrate with the Ecodan range and improve performance with faster heat up times through the use of plate heat exchanger technology.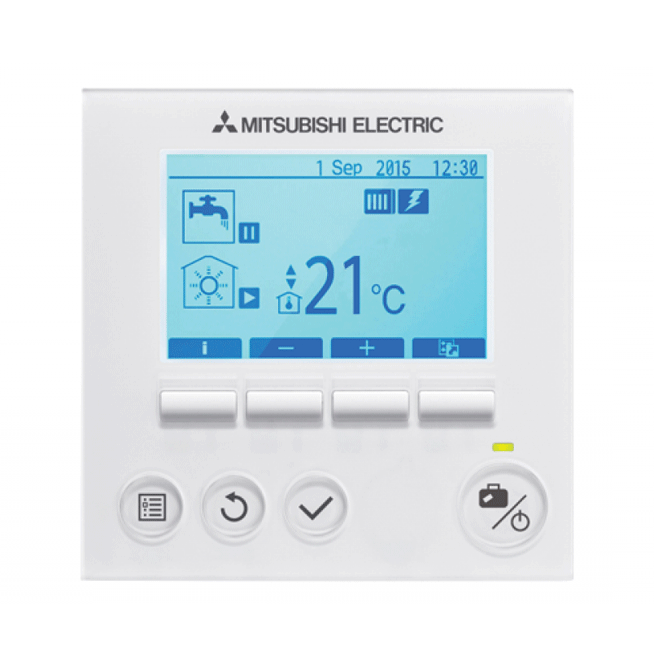 Ecodan heating systems have two controllers as part of the FTC5 range, along with MELCloud smart wireless control and Metering, Monitoring and Service Packages.
PUHZ
The Ecodan PUHZ monobloc air source heat pump range includes 5, 8.5, 11.2 and 14kW sizes.
Best suited for:
All types of home
Small commercial buildings
Other residential premises
QUHZ
The Ecodan QUHZ is the latest air to water heat pump system and is ideal for properties with a low heating capacity.
Best suited for:
Small homes
Apartments/ flats
Homes with a high domestic water requirement
Hybrid systems
Hybrid Ecodan heating systems work in tandem with an existing boiler.
Best suited for:
All types of home
Small commercial buildings
Other residential premises
Common Ecodan Questions
Ecodan have their own sizing tool which can give you an idea of the type and size of Ecodan ASHP that will be suitable for your property.
Scroll to the top of the this page to learn exactly what and Ecodan Air Source Heat Pump is and how your home/business can benefit.
Air Source Heat Pumps are able to draw heat from air effectively until the ambient temperature drops below -25c.
You can get an air source heat pump grant, or financial support to cover some (or all) of the cost of your installation.
And your ASHP is installed, you can earn for the energy you produce by joining the Renewable Heat Incentive [RHI] scheme.
Air Source Heat Pumps are a current alternative to gas boilers for space and water heating.
Currently they are mainly used for heating properties with no gas connection.
The Committee on Climate Change (CCC) in the UK have even proposed the banning of gas boilers in new build homes from 2025. This would be enforced by not allowing for a natural gas connection.
Replacing your boiler with heat pump requires a home inspection prior to providing a quote.
Request a callback to arrange a free home survey using the form above.
Short answer.. Yes.
Radiators must to be sized for the flow temperature that your heat pump is set to.
The lower this point is set, the more efficient your heat pump will be. Making it cheaper to run.
Air Source Heat Pumps work by transferring heat absorbed from the outside air to an indoor space.
Such as in a home or office via wet a central heating system to heat radiators and provide hot water.
Air source heat pumps can be used for both heating and cooling purposes.
Depending on the model you get they can provide cooling in the summer, and heating in the winter.
No. An ASHP is designed to take in Outdoor Air and extract the heat from it to warm your heating system, and produce hot water.
Have Other Questions?  Request A Free Callback From Our Team
Based in Glasgow & West Central Scotland!

BRB Electrical Ltd takes great pride in servicing homes and businesses across Scotland from our headquarters in Glasgow.
---
Glasgow | Paisley | Dumbarton | Motherwell | Hamilton | Kilmarnock | Coatbridge | Largs
Ayr | Linwood | Bridge Of Weir | Johnston | Wishaw | Bellshill | Bothwell | Parts of Perth & Edinburgh